Darién Rainforest Basketry

The Book

Baskets of the Wounaan and Emberá Indians from the Darién Rainforest of Panamá.

Margo M Callaghan

Fourth edition
All color photographs.
Revised November 2009
97 pages.
ISBN 978-9962-00-640-4

Darién Rainforest Basketry is about the baskets made by the Wounaan and Emberá Indians of Panama and Colombia.
These hösig di baskets, made entirely from materials found in the rainforest, are works of art with a long cultural history. The book is addressed to basket buyers and collectors who want a little more information about the baskets, their construction, and the Indians who make them. It includes a description of the Indians and their unique rainforest culture, as well as detailed photographs of how the baskets are made, and a list of the natural materials and dyes that they use.

Many photographs illustrate the various types of baskets as well as the Wounaan and Emberá riverside rainforest culture. Ron Binder (Wounmeu translator), Chaz Mortensen (Emberá translator), and John Cubit (Patron and Collector) consider it accurate and well written. The Wounaan say that it helps them to sell their baskets, and Panamanian government offices use it as a reference.
A portion of all book proceeds are donated directly to the Wounaan.
Chagres Cat Publications
basketsofpanama@gmail.com

---

DARIEN RAINFOREST BASKETRY IS ALSO AVAILABLE AS AN E-BOOK!
$5.00

---
VANNERIE DE LA FORET TROPICALE DU DARIEN
EN FRANÇAIS
$5.00
---
---

---
I first traveled into the Darién Rainforest of Panama in 1973 to visit Kuna (Guna) Indians living near Lake Bayano and look at their molas. (Click here
_
for information about them.) At night we stayed in isolated "Chocó" homes where we were made welcome, and we slept in hammocks slung under their houses. At that time the only baskets I saw there were woven utilitarian baskets for household use.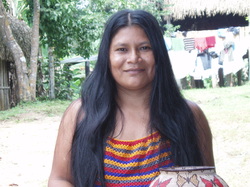 When I eventually returned to Panamá in 1996, I met a number of Indian families living in traditional houses along the Chagres River near Gamboa, Panama. I learned that those "Chocó" Indians were the Wounaan and Emberá, two separate tribes who had migrated from the Chocó Department in Colombia. I also saw the beautiful baskets that they were making. In those intervening years, these highly skilled Wounaan and Emberá Indians of the Darién had learned to use their traditional talents as carvers and basket weavers to sell their crafts to tourists and collectors.

As I admired their baskets and became better acquainted with various individuals, I wanted to learn more about them, but very little had ever been written about the Wounaan, the Emberá, or their basketry.

And so after talking with many Wounaan and Emberá, studying their fine hösig di baskets and even trying to make my own, asking questions about how they made their baskets and identifying many of the Rainforest materials they used as dye sources, as well as talking with the first patrons and collectors, I wrote the book, Darién Rainforest Basketry, in order to document the origins and first development of this relatively new art form which is based on a long tradition of basket making by the Wounaan women.

---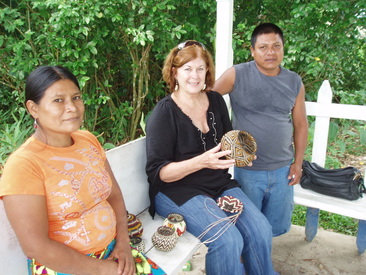 Margo Callaghan with Rosalina Tascon and Luis Carlos Cabezon
in Gamboa, Panama.
---